Hubby and I came home yesterday with a new-to-us-2005 Honda Pilot yesterday. We traded it in for my 2006 Honda Odyssey mini-van.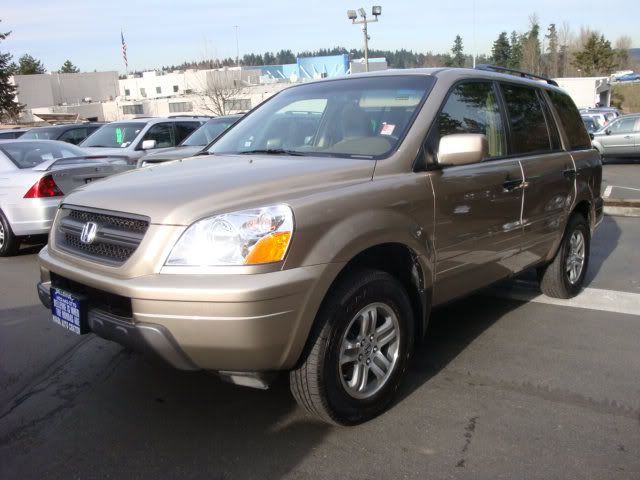 The goal of our car trade was to get a vehicle with 4wd. The Honda Pilot has 4wd, comparable features and mileage as my minivan, and the extra bonus of a dvd player for use on long trips (only!).
We were both drawn to a 2006 Acura MDX and considered it up to the last minute. It is sportier and sexier than the Honda Pilot, but comparable in all feature aspects except for a vehicle cost of $1000 more. It was our intention to leave the dealership with a trade that didn't cost us more than about $3000, so the Acura would have increased our out of pocket cost by 25%. I am proud of us for selecting the Pilot even though both of us really wanted the Acura. The Honda fits all of our needs and the only reason we liked the Acura is because it looks better.
It is an interesting feeling leaving the mini-van behind. We were so grateful to drive around the nice comfortable mini-van, but we are both super glad to leave it behind too. It feels like we are trasitioning out of baby-dom. We've passed through the years of infant car seats and huge strollers. We no longer need to have a flat surface of the van floor to change diapers on when we are out-and-about. It feels like a little piece of my before-kids life has been restored to me, although I certainly didn't drive an 8-seater vehicle before I had kids. I'm looking forward doing the mom-taxi thing in my new car.